You are here: Home // Timisoara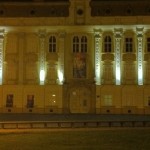 Thank you to our speakers : Claudiu Suma – ETA-AI, Timisoara, RO Philipp Kandal – Skobbler, Cluj-Napoca, RO Dani Barbulescu – Alcatel-Lucent, Timisoara, RO Patrick Bosteels – TCS Digital World, Bruxelles, BE Dan Romescu – Augmentise, Berlin, DE Antonio Eram – mobilPay.com, Bucharest, RO Tom Desmet – Kooaba, Zurich, CH If you weren't able to make it along...

You are invited to attend "Mobile Monday Timisoara inauguration" TiMo Joins MoMo! to network with the key players of the national and international mobile industry on Date: Monday, 14th November 2011 Location: Sala Baroca, Muzeul de Arta Timisoara Piata Unirii nr. 1 , 300085 Timisoara. Map Program of the day 13.00-18.00 Conference: Mobile Industry – The Future is HereEntrance...

Monday, November 14th, Timisoara will formally enter in the Mobile Monday Network of more than 130 cities worldwide, where vibrant communities of people are jointly pursuing their interests to learn about, to follow and, why not, to influence the evolutions within the global mobile industry. The existing Timisoara Mobile Development Group (TiMo) re-invents itself by joining MobileMonday™ (MoMo),...